BY Sunny Stroeer, founder of AWExpeditions, who has set 2 Women's Speed records on Aconcagua
I have spent a significant portion of my life in the last five years on Aconcagua – the giant of the Andes which rises to 22,838ft above sea level and is a coveted high altitude summit for expedition climbers of all experience levels.
Aconcagua isn't cheap; the climbing permit alone runs near $1000 (depending both on which route and time of year you choose for your climb), and then there are on-mountain logistics costs, gear considerations, guides, porters, and a host of other considerations. For full disclosure, AWExpeditions offers guided trips on both the Normal Route and the 360 Route for just under $5000 – but that's only one of many different ways and price points to climb the mountain.
Here is a basic guide for how to think about budgeting for an Aconcagua climb, and what levers you can use to reduce either your cash investment – assuming you have time but are constrained on money – or the amount of time that you need to dedicate to preparing and executing your climb – assuming you have no concerns about money but limited time.
As you can tell, there are many different options for how to approach an Aconcagua climb; the above table yields too many permutations for me to price out each single one, but let's run through a few examples in order to put actual numbers to the theory.

THE BUDGET APPROACH: Low season, Normal Route, Unguided Party of 2
The ultimate low-cost climb of Aconcagua would be to climb the Normal Route as a party of two, in the low season, unguided and without porter support but with basic (mule) logistics support. Here's what the budget for that type of climb would look like:
In short – if you and your climbing partner already own all the prerequisite gear (including double mountaineering boots, a four season tent and a -30F sleeping bag), can swing a climb during the low season, are willing to go unguided and carry pretty much all of you gear yourself once you are above basecamp… it is possible to climb Aconcagua for under $3,500 per person, door to door. If you are traveling solo, up this number to $4,200-$4,500. I should mention that the low season (Nov 20 – Dec 14, and Feb 1 – Feb 20) tends to have reasonably stable climbing weather; permit prices are lower then mostly because these early and late climbing windows don't coincide with the Christmas holidays and as such are less busy.
A note about mule support: I have climbed Aconcagua without the assistance of mules, and I cannot recommend this approach. Yes, mules are pricey (~$500 for a 30kg load to basecamp, one way), but they are well worth the money. If you decide to skip the mules, you have to be prepared for two things:
1) You will be humping a 65-80lbs to your chosen basecamp, which means two to three very long and hot days of incredibly hard work before the real climbing even begins. Reaching basecamp exhausted does not set you up for success on the upper mountain.
2) The savings that you are hoping to pocket from not hiring mules will be partially offset by a higher permit fee, as the government charges a premium to unsupported climbers to deter this type of approach.
THE "TIME IS MONEY" APPROACH: High Season, 360 Route Accelerated Climb, Guided, with key gear purchases
On the top end of the spectrum here's what you're looking at if you decide to climb Aconcagua in the high season, via the 360 Route, guided as part of – in this example – one of Alpenglow Expeditions' Rapid Ascent Teams. I have chosen to showcase Alpenglow here (a highly regarded, California-based expedition business) as they are among very few guide services who are in a position to offer safe accelerated climbing schedules. It's a pricey option, but it may be well worth it: if you are tightly constrained on how much time you can spend away from your job / family / home but you have the money to spend, this may be your ticket.
[Warning: do NOT attempt to climb Aconcagua on an accelerated schedule without the preparation and guidance of a high-end guide service like Alpenglow. The preparation for these types of climbs involves special training and equipment including thorough pre-acclimatization through the use of hypobaric tents. Without such measures and proper supervision, you cannot shortcut the climbing schedule on Aconcagua; acclimatization cannot be shortchanged, and attempting to do so can be fatal.]
Of course it's easily possible to spend even more money on an Aconcagua expedition – business class flights, comprehensive gear upgrades, generous guide tips and a few days of high-end Mendoza R&R can all add up to bring a deluxe Aconcagua adventure to north of $20,000.

These are what I would consider the two extreme cornerstones of the cost spectrum for an Aconcagua climb: $3,500-$4,000 for a barebones unguided climb in the low season vs. ~$15,000-$18,000 for a top-end guided climb in the high season.
"The two extreme cornerstones of the cost spectrum for an Aconcagua climb: $3,500-$4,000 for a barebones unguided climb in the low season versus ~$15,000-$18,000 for a top-end guided climb in the high season."
Most Aconcagua hopefuls choose an option that falls somewhere between those two numbers: they tend to be both cost-aware yet are keen on a guided ascent, as being part of a guided team radically reduces the planning effort and takes a lot of the guess work out of your time on the mountain. This not just saves you time during your trip preparation, but also increases your odds of having a good and successful time on Aconcagua during your first go at the summit (average summit success rates on the mountain are estimated anywhere between 30% and 50%). Read on if you would like to see the budget breakdown for an AWExpeditions ascent of Aconcagua, which represents a middle-of-the-road approach to climbing Aconcagua as part of a small guided team.
AWExpeditions Aconcagua Cost Overview: High Season Normal Route & Low Season 360 Route, Guided, Regular Climbing Schedule with Small Teams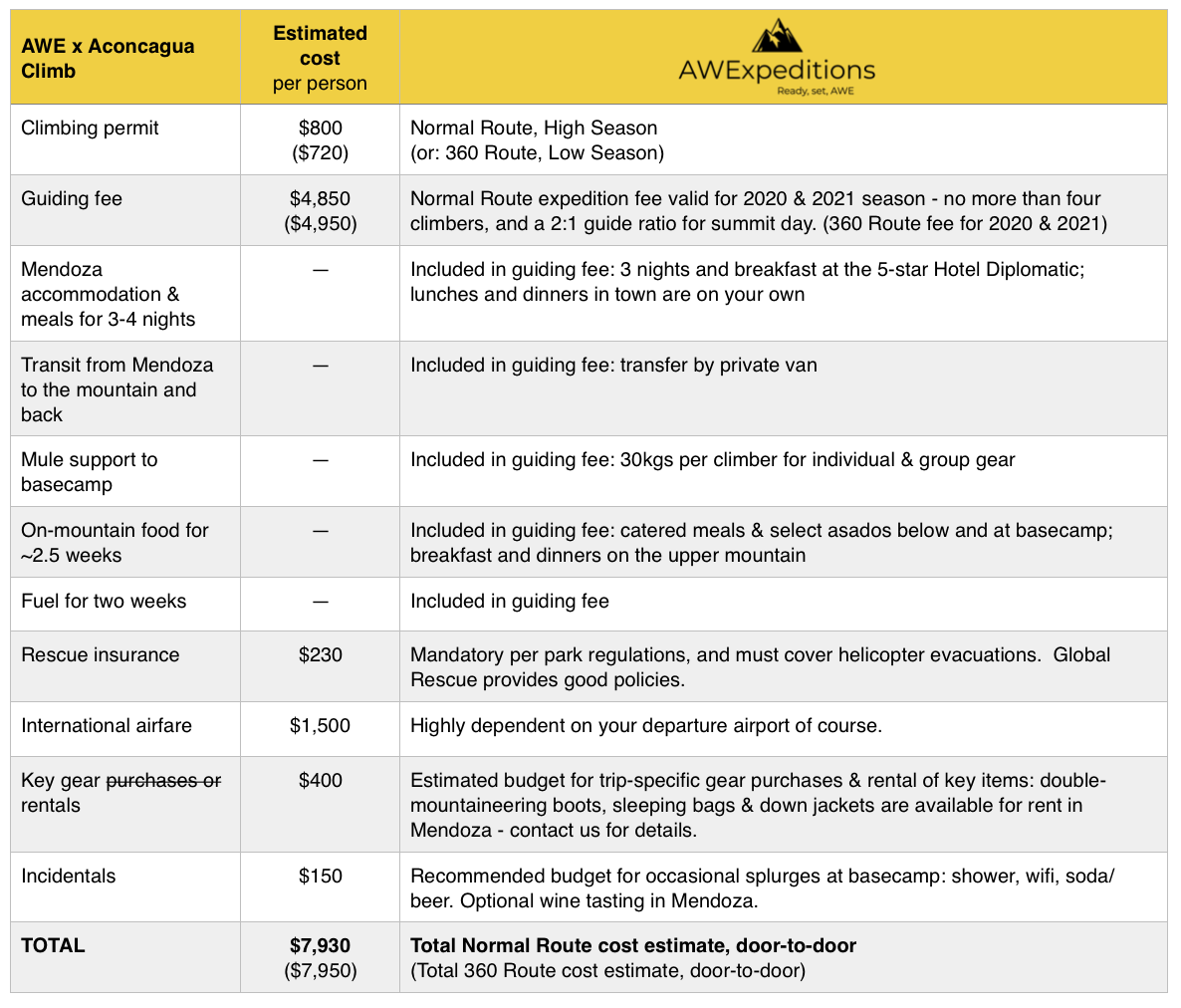 Hopefully this cost discussion provides a few helpful benchmarks – don't hesitate to reach out or leave a comment with questions about any of the details above, or even about how to go about operationalizing an unguided budget climb. We would of course love it if you came to join one of our AWE x Aconcagua teams, but my first and foremost ambition is to make expedition climbing transparent and accessible; I remember all-too-well how much hard work it was to navigate and manage the expedition logistics planning when I pulled together my first independent climb of Aconcagua back before AWExpeditions was born.
Happy climbing!
---
If you are interested in joining one of AWE's all-women teams for an ascent of Aconcagua, check out our expedition details here.