Enough has been said and written about 2020; rather than looking back on the last year and its difficulties, we want to celebrate the arrival of 2021 and focus on what's ahead.
2021 AWE-Some Women's Adventures
While international travel is still questionable at least for the first half of the year, we at AWE are charging full steam ahead into US-based backcountry adventures. True to AWE's spirit, we are focusing on adventures that'll allow you to get out of your comfort zone and learn or solidify mountaineering-relevant backcountry skills while being surrounded by an AWEsome group of like-minded women.
Our adventure schedule in 2021 starts with backpacking and winter foundational skills in the form of a February desert adventure along the lower Paria River in southern Utah; later in the season, you'll find glacier multi-day clinics and summit climbs on Mt Shasta and Mt Baker, as well as a full-value adventure climb of Mt Shuksan.
Starting in September 2021, we are finally relaunching our international departures as well. First up: Kilimanjaro! This is a climb that we're particularly excited about, as it'll include our four 2020 Summit Scholarship recipients Viviana, Savannah, Sam and Humaira – who were supposed to travel to Tanzania in September 2020, but of course had to bow to the realities of COVID like all of us.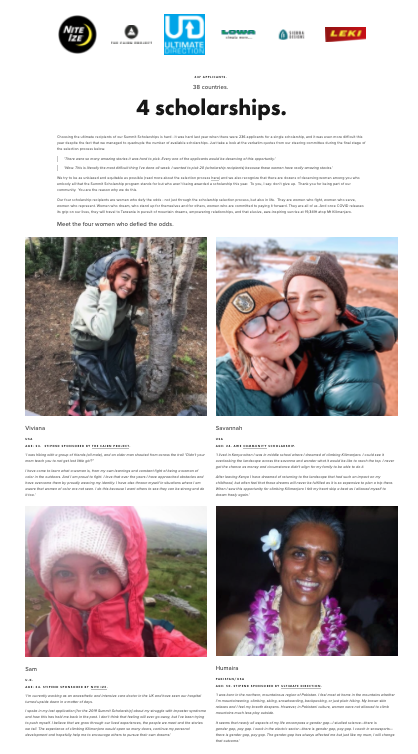 The Summit Scholarship
We may be a year late on being able to follow through on the 2020 Summit Scholarship climb, but we are not idle – on the contrary! We are beyond excited to announce that the Summit Scholarship Program continues in 2021, thanks to the unwavering support of The Cairn Project. Nite Ize, LOWA, and community contributions also continue to play a significant role in making the 2021 Summit Scholarship possible.
In keeping with COVID travel uncertainties, the 2021 Summit Scholarship program will be domestically focused. While we hope to offer more international expedition scholarships in 2022, this year's theme is learning skills closer to home. There'll be a total of three scholarships available for our Basecamp Clinics: one scholarship for the 4-day Mount Shasta climb in July, and two scholarships for the three-day Mount Baker climb in August.
Just like in previous years, the Summit Scholarship is designed to allow women of all economic backgrounds to participate in life-changing, empowering backcountry adventures. We're looking for women whose values align with those of AWE, and for whom a climb with AWE will be an extraordinary experience. We are not looking for social media influencers. On the contrary: we want to break down barriers. If you are in love with the thought of adventure, but consider Mount Shasta or Mount Baker an unrealistic goal (be it because you don't know who you'd do something like this with, or where to start to learn mountaineering skills, or how to pay for it) – this scholarship is for you.
We'll begin to accept applications this coming week. Make sure you follow us on social media (Instagram or Facebook) and are subscribed to our newsletter so you don't miss the scholarship when it goes live.