If you are adventurous and interested in getting into climbing big mountains, chances are that Kilimanjaro is on your list. Towering at 19,341 feet (5895 meters) above sea level, Kilimanjaro is both non-technical and a popular first high altitude climb. That doesn't mean that it's easy – but here are a few things that can help put into perspective what it takes to successfully climb the mountain.
Overall summit rates on Kilimanjaro (across all routes & climbers) are estimated to fall between 45% and 65%.
If Kilimanjaro isn't '"all that" difficult, why is the aggregate summit success rate so low? Two reasons:
Kilimanjaro often gets underestimated. 'It's just a walk-up, right?' Yes, there are good trails all the way to the summit – but you do have to climb thousands of feet day after day, for the better part of a week. What takes many first-timers by surprise is not how difficult each individual day is, but how strongly our bodies react to the accumulated physical effort after four or five long days on the move.
Altitude takes time. I have spoken about this topic at length in the past and it bears repeating: it is impossible to rush acclimatization. No matter how fit or tough you are, acclimatization is a physiological adjustment process in our bodies without which we cannot operate in environments of depressed effective oxygen availability. And Kilimanjaro, even though it is not technically difficult, it is almost 6000 meters tall – which means that the effective oxygen available at that elevation (due to lower partial pressure) is less than 50% of what it is at sea level.
That's why it is no surprise that summit success rates are highly correlated with the length of the chosen climbing itinerary: the more time you spend on the mountain, the higher the likelihood that you'll be successful in your summit bid.
"Acclimation involves physiological, anatomical, or morphological adjustments within a single organism that improve performance or survival in response to environmental change. The extent of this acclimation is constrained by the genome of the individual."
You'll be walking ~30-40 miles and ascend more than 14,000ft.
Depending on what route you choose, you'll be on the mountain for roughly a week and cover a fair amount of ground. The specific mileage and vertical ascent changes based on the route, but you should remember that the shortest way to the summit is not going to be the best (see point on acclimatization above) – the longer your route, the more scenic it is going to be and the more time you'll have to acclimatize. Our recommendation, for what it's worth, is the Machame Route with ~37 miles in distance and ~16,000ft of climbing.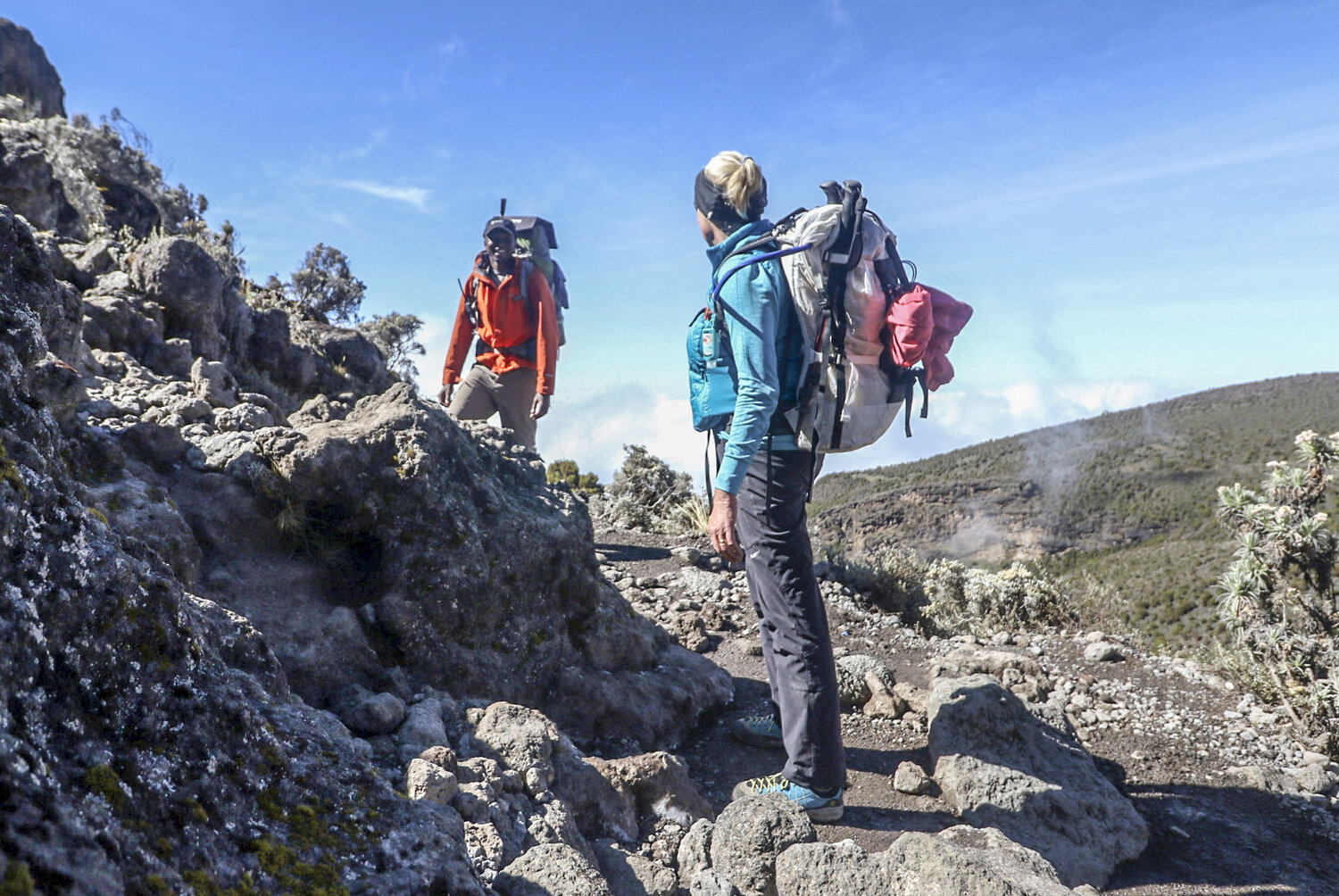 You don't need crampons or an ice axe, nor do you need high-altitude mountaineering boots.
Kilimanjaro is a hard cardio effort, and it can be snowy up high, but it is not technical – so you don't need to to spend a fortune on buying mountaineering gear.. In fact, the main pieces of gear that you need are a comfortable daypack – 30 liters is plenty -, rain layers, a warm down jacket, gloves, and a pair of comfortable warm boots (something like the LOWA Renegades will work well). Trekking poles are highly recommended, and a warm sleeping bag that is rated to -10 degrees celsius will go a long way towards making you comfortable at high camp; but if need be, you should be able to rent those items in Tanzania. Your chosen guiding business (guides are mandatory on Kilimanjaro) will take care of all the rest including tents, meals, and porters.
The oldest person to ever climb Kilimanjaro is Anne Lorimor, an 89-year-old woman from Arizona.
And that's just badass. Anne had climbed the mountain before (when she was 85) but decided to come back and do it again. The oldest man, for what it's worth, is Fred Distelhorst who reached the summit at age 88 in 2017.
Check out this clip about Anne's climb on ABC News.
And if you're intrigued to get up to the top of Africa yourself – come join one of our all-female teams on a 7-day Machame Route climb this coming season!
---
If you'd like to join AWE for an ascent of Kilimanjaro please check out our trip details for the Machame Route and get in touch.